Gathering Waters Conservancy
's new LEAP program (Land Trust Excellence & Advancement Program) has in short order:
• Helped increase the number of nationally accredited land trusts in Wisconsin from one to seven (more are in process); a remarkable achievement and a tribute to those in the land trusts who tackled the task with good humor and determination.
• Launched a peer mentoring program that matches land trust staff and board members with similar experience from Wisconsin and Michigan to learn from one another.
• Provided a variety of customized, intensive, one-on-one capacity building services to one-third of our state's land trusts.
• Gave direct grants to land trusts to help them hire their first staff, improve outreach techniques to the community, or apply for accreditation.
• Offered direct assistance to nearly every land trust in Wisconsin—that's 50+organizations working in communities across the state.
Gathering Waters' mission is to assist the more than 50 land trusts throughout the state—so that they can:
• Protect cherished farms, forests, and open spaces
• Enrich the lives of people with parks, trails, and access to clean water
---
Members Related to This Story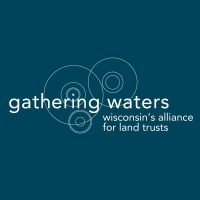 Gathering Waters: Wisconsin's Alliance for Land Trusts
---
Causes Related to This Story
Working for the Environment, Sustainability, Food, and Farms