It may be one of the scariest moments a child can face: coming out to a parent as LGBT+. As a teenager, Christian A. Real Merino confronted that moment with his mother.
"At the beginning my mom didn't accept it and didn't understand it," said Christian. "But the thing with my mom is, if she doesn't understand something, she tries to learn."
Christian's mom, Blanca, enlisted the help of community leader Baltazar De Anda-Santana to learn more, but the pair soon found the resources she needed weren't available
in Dane County.  Information wasn't in Blanca's language, Spanish, and Blanca and Christian, who both emigrated from Mexico, did not connect with available programs.
"I didn't feel like [other organizations] were meant for me," said Christian. "There were not people who looked like me or who had the same experiences as me."
That's why Christian and Blanca teamed up with Baltazar and Diego Campoverde-Cisneros to form what is now Orgullo Latinx LGBT+ of Dane County.  Orgullo Latinx builds an equitable and safe community for Latinx LGBT+ people, though programming, education, advocacy, and support.
Orgullo Latinx LGBT+ of Dane County is part of Community Shares of Wisconsin's Inspiring Voices series, featuring local grassroots organizations working to advance racial equity. Like many emerging organizations, visibility and funds are especially crucial to Orgullo Latinx to advance their work.  Consider a donation today and share your support with others. And thanks to a generous matching challenge from MG & E, you can double the impact of your gift to Orgullo Latinx LGBT+.
Why Culture Matters
Whether through one-on-one engagement, public awareness events, or monthly educational meetings, Orgullo Latinx LGBT+ combats taboos and stereotypes, especially amongst members of the Latinx community who may be isolated, or feel less comfortable discussing such issues.
For instance, a recent study on the Latinx LGBT+ elders found a community that faced more isolation and economic challenges than other aging communities in the U.S. Many older Latinx LGBT+ people interviewed expressed greater fear of losing family and community support by living openly, which was often compounded by lower lifetime earned incomes and concerns of being rejected by religious institutions.
For the leaders of Orgullo Latinx LGBT+ of Dane County, building community starts with creating a culturally safe space for learning and support: "If you invite me to your house for Thanksgiving, I would appreciate it. But would I identify with it? No." said Baltazar, who serves as the organization's Director. "But if you invite me to a Mexican dinner where everybody not only speaks Spanish but understands the importance of making tamales. That's different."
Orgullo Lantinx LGBT+ provides community members with programs that tackle biases in a way that acknowledges cultural norms that may be different from the dominant American culture. For instance, traditional gender roles may play a greater role in how Latinx people interpret LGBT+ issues: "Either you're a male or female and there's nothing in-between," according to Christian, who now serves as Outreach Coordinator for Orgullo Latinx.  "When it comes to a lot of [Latino] adults, they don't understand things that are different [from the gender binary] and whenever you don't understand something you're afraid of it."
At an Orgullo Latinx meeting, community members have a chance to hear from a variety of experts and professionals in Spanish—doctors, priests, and other community leaders. Diego, the Program Coordinator for Orgullo Latinx, has seen the impact of such meetings on Latino parents who often move from fear and doubts to a sense relief.  "They realize: 'This is not a bad thing […]my son or daughter will be okay—they have a place where they can be safe.'"
But as an all-volunteer organization, the needs extend beyond the resources and time available. Events and projects are paid for out-of-pocket by the organization's leaders. With the support of Community Shares of Wisconsin donors, they hope to provide even more for the community:
"We need more books and materials in Spanish—and we need classes, seminars, meetings to be held in Spanish," said Diego.  With additional support they also hope to expand outreach efforts to Latinx LGTB+ people who may be especially isolated or new to the community:  "It's a different country and culture and the atmosphere is different and it's hard to navigate," said Diego. "When I came to this country, I had no idea where to go and how to ask for things."
Yet, when Latinx LGBT+ people have a chance to talk and feel safe, a world of possibilities opens up.  Orgullo Lantinx provides its members "an opportunity to be themselves," said Baltazar. For many it can be the first time they realize that they have choices, and Baltazar, who was in the closet when Blanca and Christian approached him, is proof of this impact: "It's thanks to Orgullo Latinx that I'm free."
Orgullo: More than Pride
It's that reframing of cultural viewpoints  that's at the core of the organization's work, as evidence by its name: Orgullo meaning "pride" in Spanish and "Latinx", which is a gender inclusive way of referring to all people of Latin-American descent.  "You can change people's lives by saying 'I'm proud of you […] for being LGBT,' said Diego. "The meaning itself is so powerful and empowering. It can make us stronger and powerful."  And as Baltazar added, hearing the word "pride" in your language is also about cultural healing.
Support grassroots work to build a safer, equitable community for all through a donation to Orgullo Latinx LGBT+ of Dane County. And if you can double the impact of your gift thanks to a generous matching donation from MG & E.
"We are grateful to Community Shares of Wisconsin and MG & E for their support of Orgullo Latinx LGBT+ of Dane County," said Baltazar. "Together we can build a safer and stronger community for all."
---
Members Related to This Story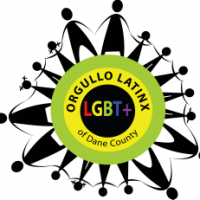 Orgullo Latinx LGBT+ of Dane County
---
Causes Related to This Story
Working for a Just, Equitable Society