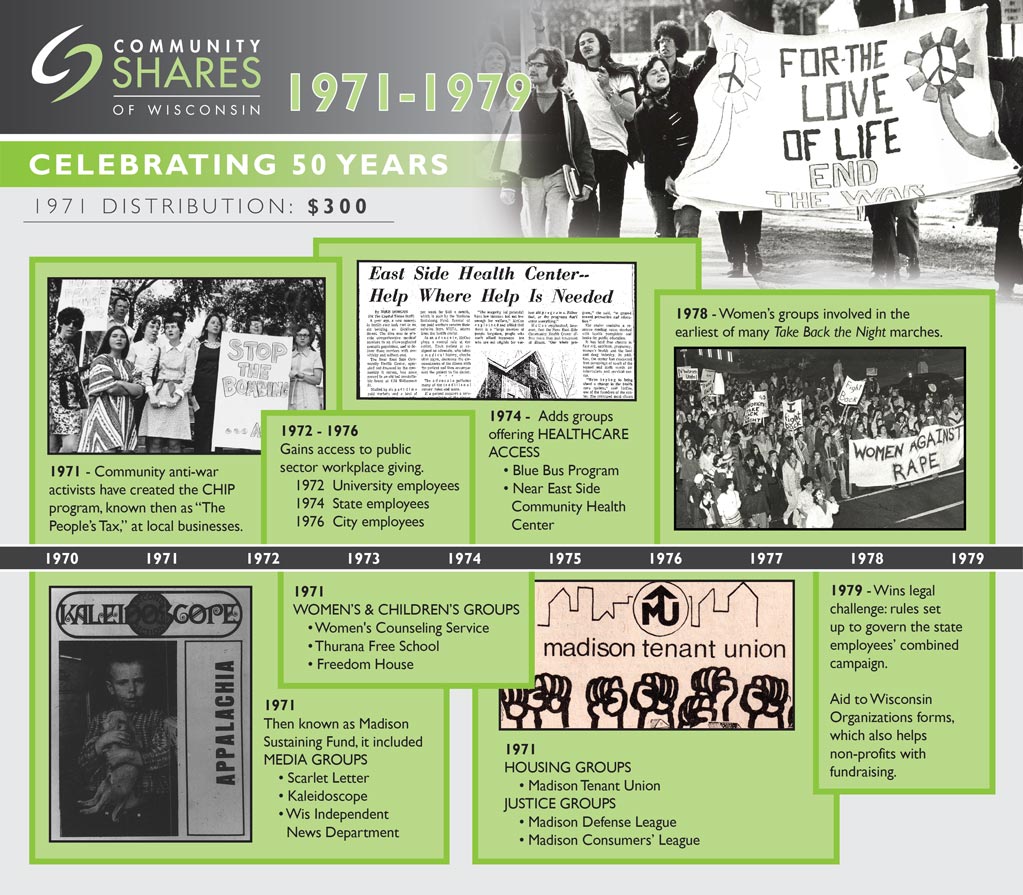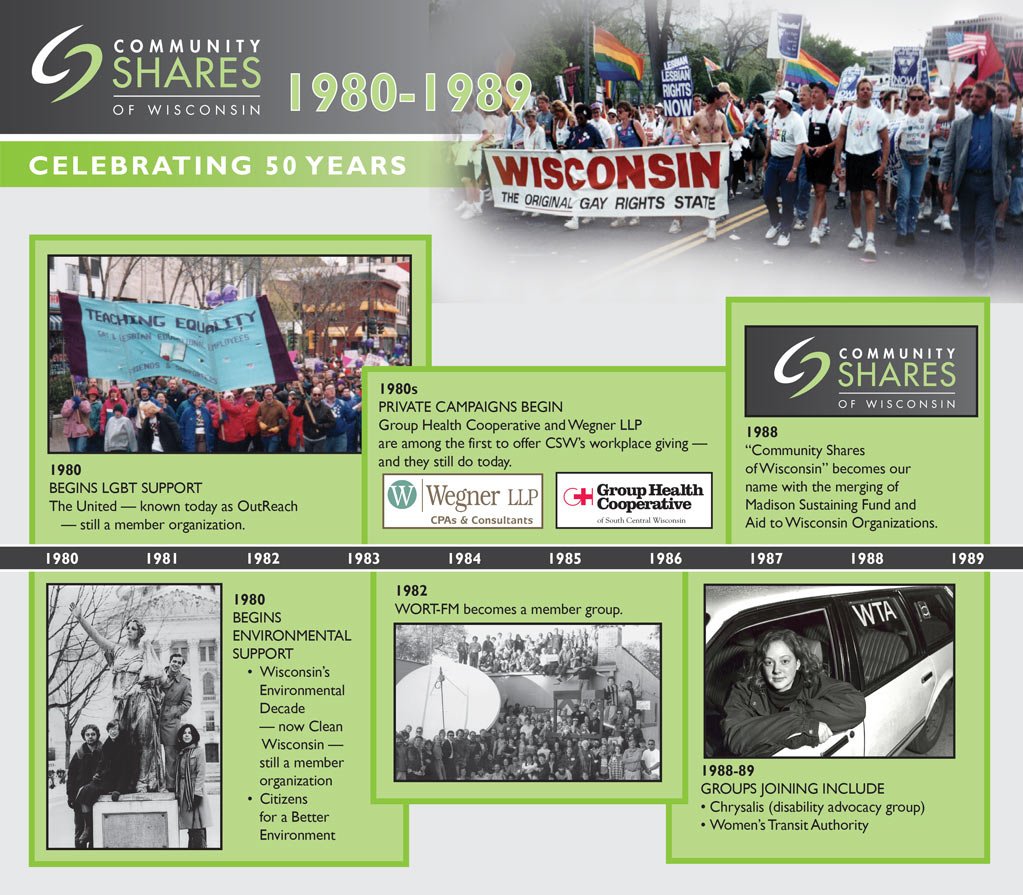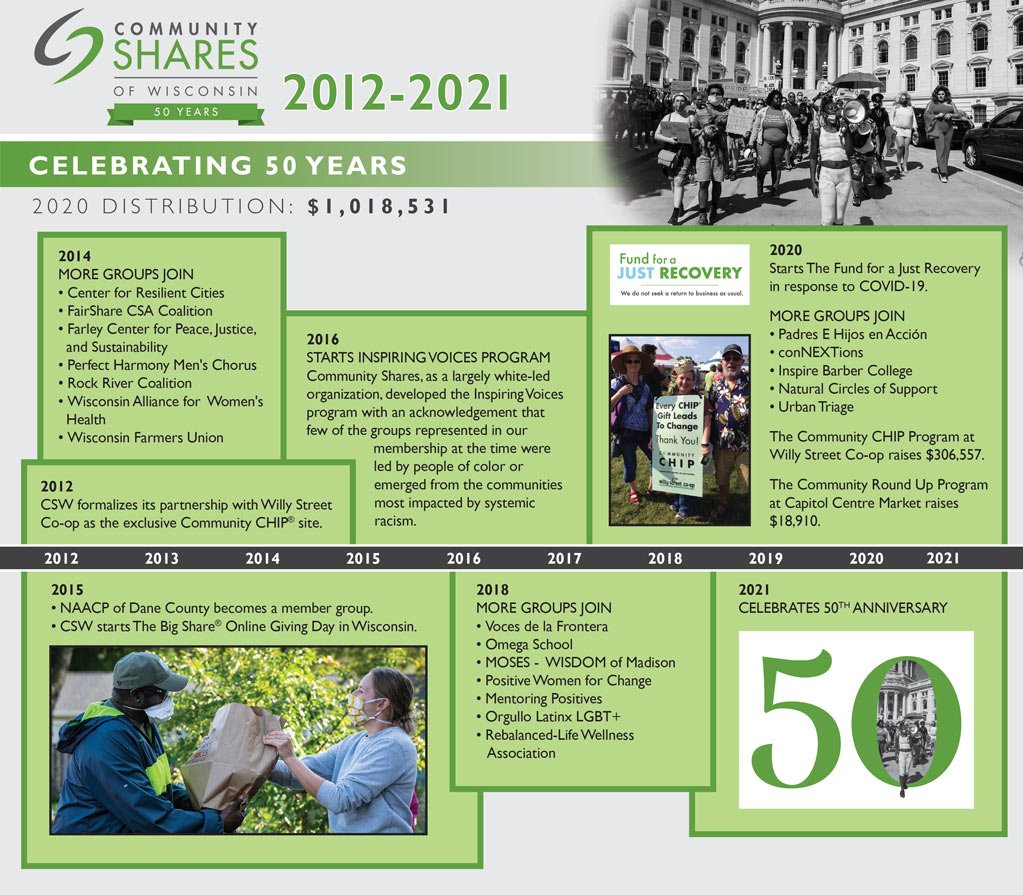 Since 1971, Community Shares of Wisconsin and its members have worked together to advance social justice and protect the environment in Wisconsin. As the first social justice fund in the nation, Community Shares of Wisconsin takes a grassroots approach to charitable giving so philanthropy isn't just for the wealthy. The timeline below shows the history of our first 50 years.
1971
Community anti-war activists have created the CHIP program, known then as "The People's Tax," at local businesses.
1971
Then known as Madison Sustaining Fund, it included MEDIA GROUPS
• Scarlet Letter
• Kaleidoscope
• Wis Independent News Department
1971
WOMEN'S & CHILDREN'S GROUPS
• Women's Counseling Service
• Thurana Free School
• Freedom House
1971
HOUSING GROUPS
• Madison Tenant Union
JUSTICE GROUPS
• Madison Defense League
• Madison Consumers' League

1971 Distribution: $300

1972 – 1976
Gains access to public sector workplace giving.
• 1972 University employees
• 1974 State employees
• 1976 City employees
1974
Adds groups offering HEALTHCARE ACCESS
• Blue Bus Program
• Near East Side Community Health Center
1978
Women's groups involved in the earliest of many Take Back the Night marches.
1979
Wins legal challenge: rules set up to govern the state employees' combined campaign.
Aid to Wisconsin Organizations forms, which also helps non-profits with fundraising.
1980
BEGINS LGBT SUPPORT
The United — known today as OutReach — still a member organization.
1980
BEGINS ENVIRONMENTAL SUPPORT
• Wisconsin's Environmental Decade — now Clean Wisconsin — still a member organization
• Citizens for a Better Environment
1980s
PRIVATE CAMPAIGNS BEGIN
Group Health Cooperative and Wegner LLP are among the first to offer CSW's workplace giving —  and they still do today.
1988
"Community Shares of Wisconsin" becomes our name with the merging of Madison Sustaining Fund and Aid to Wisconsin Organizations.
1988-89
GROUPS JOINING INCLUDE
• Chrysalis (disability advocacy group)
• Women's Transit Authority
1990s
MORE ENVIRONMENTAL GROUPS JOIN
• Sierra Club Foundation
• Madison Audubon Society
• Madison Area Community Land Trust
• Citizens for Safe Water Around Badger
2000s
NEW GROUPS
A total of 40 new groups join CSW.
2000s
PROJECT COLLABORATIONS
Member groups continue to collaborate on projects including: Wisconsin Coalition Against Domestic Violence and UNIDOS Against Domestic Violence both sponsor the Walk a Mile in Her Shoes event.
2000s
NEW GROUPS
A total of 40 new groups join CSW.
2004
LARGEST CONTINGENT
22 new nonprofits join.
2008
CHIP GROWTH CONTINUES
Willy Street Co-op — which had long been the CHIP site with the most dedicated donors — became the sole CHIP partner. CHIP was the first means of funding our nonprofits in 1971. Prior CHIP sites included:
• Cap Centre Market
• Green Lantern Eating Co-op
• Hempen Goods
• Mifflin Street Co-op
• Nature's Bakery
• Various film clubs
• Regent Market Co-op
• Sunflower Kitchen
• Williamson Bicycle Works
• Yellow Jersey
2011 distribution: $610,000
2011
JUSTICE
Many members advocate for justice issues.
2012
CSW formalizes its partnership with Willy Street Co-op as the exclusive Community CHIP® site.
2014
MORE GROUPS JOIN
• Center for Resilient Cities
• FairShare CSA Coalition
• Farley Center for Peace, Justice, and Sustainability
• Perfect Harmony Men's Chorus
• Rock River Coalition
• Wisconsin Alliance for Women's Health
• Wisconsin Farmers Union
2015
• NAACP of Dane County becomes a member group.
• CSW starts The Big Share® Online Giving Day in Wisconsin.
2016
STARTS INSPIRING VOICES PROGRAM
Community Shares, as a largely white-led organization, developed the Inspiring Voices program with an acknowledgement that few of the groups represented in our membership at the time were led by people of color or emerged from the communities most impacted by systemic racism.
2018
MORE GROUPS JOIN
• Voces de la Frontera
• Omega School
• MOSES – WISDOM of Madison
• Positive Women for Change
• Mentoring Positives
• Orgullo Latinx LGBT+
• Rebalanced-Life Wellness Association
2020 distribution: $1,018,531
2020
Starts The Fund for a Just Recovery in response to COVID-19.
MORE GROUPS JOIN
• Padres E Hijos en Acción
• conNEXTions
• Inspire Barber College
• Natural Circles of Support
• Urban Triage
The Community CHIP Program at Willy Street Co-op raises $306,557.
The Community Round Up Program at Capitol Centre Market raises $18,910.
2021
CELEBRATES 50TH ANNIVERSARY