What Is Community Shares?
Our Community
Our Community
We've been funding social and environmental justice for 50 years, and we know that change takes place over the long term. We rely on donors, volunteers, board, and staff to achieve our goals.
Our Member Nonprofits
Community Shares of Wisconsin—together with its donors and member nonprofits—addresses social, economic, and environmental problems through grassroots activities, advocacy, research, and public education.
Our member nonprofits represent many people, many dreams, one community.
Meet Our Staff
Our staff provides the day to day work necessary to achieve our goals. Learn more about the people working behind the scenes.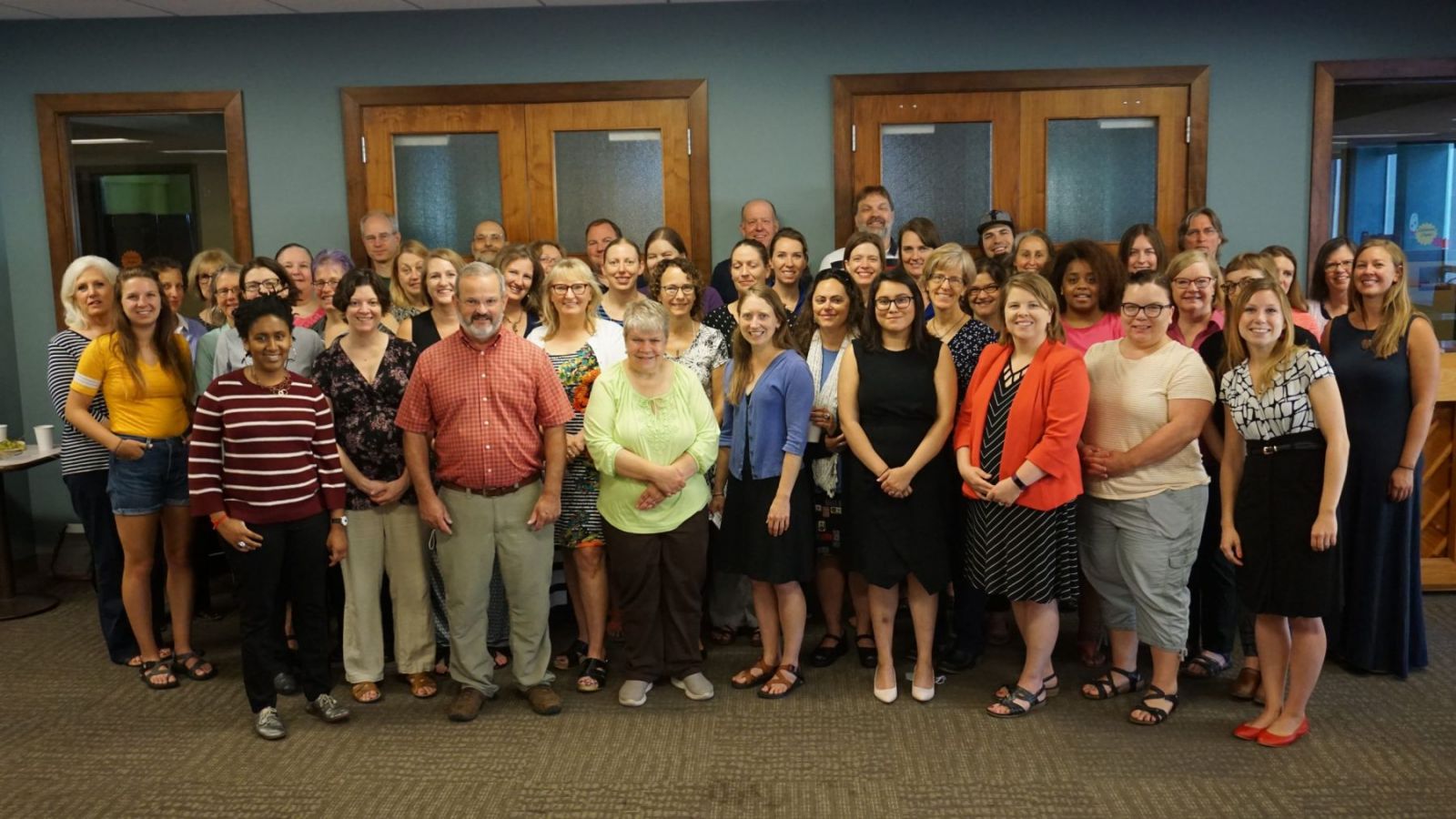 Board of Directors
All member nonprofits have a seat on the Community Shares of Wisconsin board of directors. In addition, several community representatives offer their support and expertise.
Cheri Dubiel
Executive Director
Cheri has served as Executive Director since January, 2017. She has worked at Community Shares of Wisconsin for a combined total of 15 years, being hired first as Development Director. In addition to her work with CSW, she brings extensive experience with local advocacy movements through past leadership roles with the Dane County Rape Crisis Center, Planned Parenthood Advocates of Wisconsin, and Wisconsin Coalition Against Sexual Assault. Cheri grew up on a multi-generational dairy farm in the beautiful rolling hills of Trempealeau County in the drift less region of Wisconsin. She has one teenaged daughter who attends high school in McFarland School District. (Photo by John Urban.)
Megan Diaz-Ricks
Community Partnerships Director
The daughter of Chicano migrant farmworkers, Megan Diaz-Ricks was born and raised in Madison, Wisconsin and comes from a long lineage of activists and advocates. Megan attended the University of Wisconsin-Madison as a returning student with a young child and graduated with a degree in Sociology in 2018. Megan was hired under a grant through the Wisconsin School of Medicine and Public Health and took on a newly formed role, Coordination of Care Specialist, in June of 2018 with Common Wealth Development. Megan was promoted to the role of Director of Economic Development in April of 2019 where she worked to support the Economic Development section of Common Wealth Development through the COVID-19 pandemic. In October of 2021, Megan took on the role of Director of Communications and Fund Development with Common Wealth where she learned her passion for developing strong community partnerships to help drive and sustain the important work of grassroots and nonprofit groups in Madison.
Tyler Logan
Development and Database Manager
Tyler grew up in the mountains of Utah, and then spent 4 years in Arctic Sweden before coming to Wisconsin. A background in Ecology has built Tyler's data management skills and informs his interest in environmental justice. Tyler hopes to leverage both to support the mission of Community Shares and its member organizations. Previously Tyler was the Operations Manager for CSW member Sustain Dane, and for the nonprofit specialty accounting firm Numbers 4 Nonprofits. Tyler's wife introduced him to sailing when they moved to Wisconsin, and he's been completely obsessed ever since. Tyler joined the team at CSW in July, 2022.
Kathleen Messinger
Financial Director
Kathleen went back to school and earned an Associate Degree in Accounting in 1998. She started her accounting career at the Dane County Youth Connection which merged with PICADA. She then worked at CSW member Wisconsin Family Ties before joining the CSW team in 2001, made more memorable because it was just a few days before 9/11. She is passionate about CSW's mission and grateful that working with numbers in the back room can make a difference. Kathleen enjoys watching movies with spouse Jim and cat River, and doing number puzzles, Suguru being a current favorite. (Photo by John Urban)
Kewiana Pollard
Campaign Manager
Kewiana is a Madison College graduate with an Associate Degree in Liberal Arts, and is currently studying communications at UW-Madison. Following graduation from UW-Madison, she plans to go to law school to practice civil law. Kewiana is a woman with many hats – once serving as Madison College's Black Student Union President, the Communication and Recruitment Coordinator for the Volunteer Center, and student chairs on several of Madison College's boards! She also worked closely with the office of Equity and Inclusion at Madison College where she successfully assisted in organizing several community events targeting racial justice issues. For fun, Kewiana likes to cook and make homemade crafts and music.
Judy Young
Membership and Operations Manager
Hailing from the north side of Milwaukee, Judy has been all over the world, and found her way to Community Shares, where she looks forward to helping to make a positive change in our community. Prior to working at Community Shares, Judy has worked in administrative roles for an environmental service company in Milwaukee and at the Urban League of Greater Madison–she was even a truck driver at one time! In Judy's spare time, she likes to do DIY projects, watch HGTV, and attend Madison's many festivals. Judy also dances and teaches Chicago style stepping, a form of dance originating from Chicago that incorporates dance style in a let the leader lead you formation.
Board of Directors
All member nonprofits have a seat on the Community Shares of Wisconsin board of directors. In addition, several community representatives offer their support and expertise.
Bernie Hoes, President
Denise Jess, Vice President
Rich Storck, Secretary
Bonnie Watson, Treasurer
Aaron Perry
Alex Shade
Alexandria Baker
Alexis London
Alysha Clark
Angie Trudell Vasquez
Anne Katz
Baltazar De Anda Santana
Bernie Hoes
Beverly Speer
Bianca Tomasini
Bonnie Watson
Brad Hinkfuss
Brandi Grayson
Brian Britt
Brian Juchems
Brynne McBride
Carrie Sedlak
Chad LaFlash
Claire Oleksiak
Daniel Libby
Debra Cronmiller
Deb Nemeth
Denise Jess
Gabby Richardson
Glenn Mitroff
Greg Jones
Hannah Mortensen
Hector Portillo
Hedi Rudd
Hugh Davis
Jacinda Tessmann
Jane Carlson
Jason Hafeman
Jeffrey Lewis
Justice Castañeda
Kathy Bailey
Karen Anderson
Katie Beilfuss
Kelly Hook
Kia Stearn
Laura Olah
Lea Kitz
Lorrie Hurckes-Dwyer
Luz Arroyo
Mary Bell
Matt Reetz
Maxine Webb
Megan Salzwedel
Megin McDonell
Michele Erikson
Nancy Vue
Natalie Harburn
Nestic Morris
Olivia Williams
Oscar Mireles
Pat McMurtrie
Patty Loosen
Rachel Kincade
Rich Storck
Richard Castelnuovo
Rick Tvedt
Robin Sereno
Samantha Read-Burden
Sara Dillivan Graves
Sara Finger
Saran Ouk
Stacia Conneely
Steve Starkey
Taylor Raether
Will Green
William Parke Sutherland
Community Representatives
Alex Shade
Bernie Hoes
Bonnie Watson
Chad LaFlash
Salman Mushtaq, PhD
Veronica Figueroa Velez