Our Programs
Community CHIP
®
Community CHIP
®
The Community CHIP® program, part of Community Shares of Wisconsin, is a fundraising program in partnership with Willy Street Co-Op's three locations. Simply say "yes" when asked if you'd like to CHIP at the Co-op, and the cashier will add a 1% donation to your purchase. That's only 30 cents for a $30 bag of groceries. The Co-op collects the money for Community Shares to distribute equitably among its member nonprofits.
It may seem like small change, but the dollars really add up. Last year, the Community CHIP program raised over $300,000 to support our member nonprofits. Thank you to all who say yes to Community CHIP!
Community CHIP
Because the Community CHIP program is a part of Community Shares, all CHIP contributions are tax deductible.
Know that your donations make a big difference to our member nonprofits. All of your small gifts add up to one tremendous gift for our community.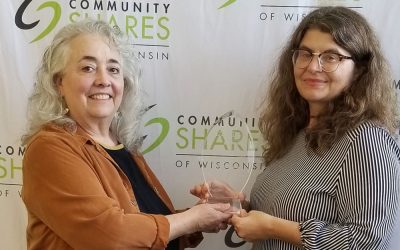 As Community Shares of Wisconsin marks its fiftieth anniversary, we asked Candace Weber, who received the Founders Award, to discuss the organization and its work through the years. Describe the origins of Community Shares of Wisconsin. We started the Madison...
read more
Join our mailing list to receive regular updates delivered to your inbox.
By agreeing to CHIP at the Willy Street Coop, you are providing (through CSW) 20-25% of the annual operating budget of this all-volunteer-run non-profit. Wheels for Winners is an organization that has operated an earn-a-bike program serving Madison and Dane County for 27 years.
Community Chip donations at Willy Street Coop provide needed funds for REAP's work making good food, grown well, available to all. In fields, classrooms, and cafeterias around Southern Wisconsin, REAP helps connect farmers to eaters, providing a healthy dose of education along the way.